Home Page
---
INFRAREDESIGN ®
---
INFRAREDESIGN® è un sistema unico al mondo che deriva dai medesimi fondamenti scientifici del metamerismo, ma si basa sui normali processi di stampa a colori. Il fenomeno chiamato metamerismo si ha quando colori che appaiono all'occhio identici sotto una certa luce, mostrano tonalità differenti se illuminati con una luce diversa. Nel 1970, una famiglia di scienziati croati, iniziò a studiare la risposta dei colori normalmente visibili all'occhio umano, quando esposti alla luce infrarossa. Questi studi hanno portato alla scoperta di una nuova frontiera nell'anticontraffazione. La protezione aggiunto di uno spettro di colori in un'immagine o un testo può essere vista solo sotto luce infrarossa e non può essere fotocopiata o scansionata.
---
INFRAREDESIGN® is an unique system derived from the same scientific basis of metamerism, but it make use of the normal processes of color printing. The phenomenon called metamerism occurs when the colors that look identical under a certain light, show different shades when submit to a different light. In 1970, a family of Croatian scientists began to study the response of colors, normally visible to the human eye, when exposed to infrared light. These studies have led to the discovery a new frontier in anti-counterfeiting: the added protection of a spectrum of colors in an image or text can be seen only under infrared light and can not be photocopied or scanned.
---
Bosnia Herzegovina (HP Mostar) 01-06-2012
Per la prima volta al mondo, questo francobollo è protetto con il sistema di sicurezza "Infraredesign"; una doratura di protezione (silohuette della chiesa di Medjugorje ed il volto della Madonna) può essere vista solo con la fotocamera IR.
For the first time in the world, this stamp is protected with the "Infraredesign" security; gilts unique protection (silhouette of the church in Medjugorje and Our Lady's face), which can be seen only with the IR camera.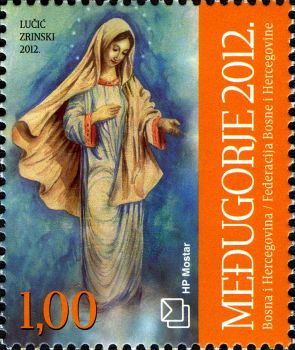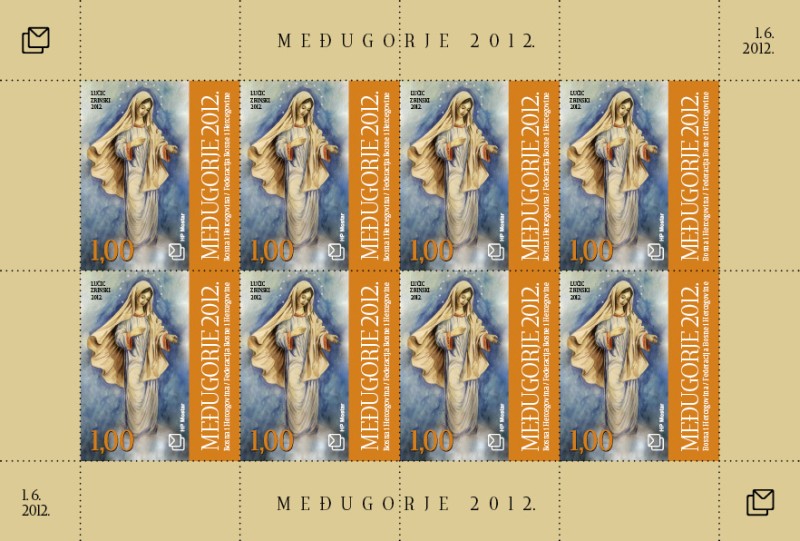 ---